After weeks of searching I finally found some belt clips that would work with my Kydex holsters. I also found some "J" hooks that I'm going to play with.
The one on the left is the first IWB Tuckable holster I made for my PF9. I just added the belt clip. The other is for my Llama MinimaX45 I just picked up. Shoots great looks like crap...I'm going to Parkerize it in a few weeks.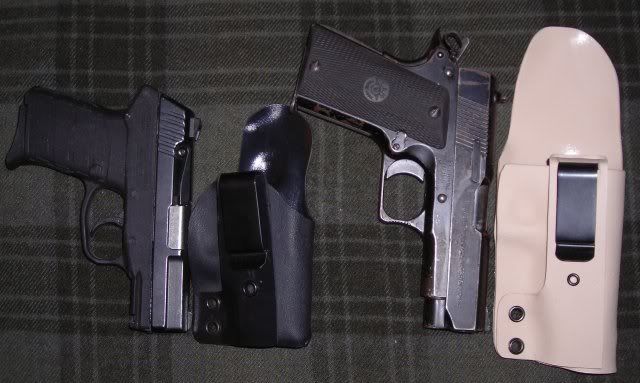 I made the Llama Holster a little longer than the weapon that way I can use it for my other 45's. I may cut it off later.
There's a lot of room to tuck my shirt in. I hope that this summer they are as comfortable as they are now.
I made sure that the back of the holsters were longer than the weapon so the top of the weapons won't dig into my skin.
I think I'm going to stick with this design for my weapons. I can wear it OWB, IWB tucked in or not.