CRIMSON TRACE LG 301
FOR 1911 PISTOLS
Hi guys,
I have been using the Laser Grips LG 301 with over molded rubber and dual activation on both grip panels, for several years now.
I installed them in my Colt Gov't .45 in stainless steel, and I have been happy with their performance through several hundreds rounds.
I particularly like the position of the master switch in the left panel, the master switch is used to block the electricity to the laser, in case you want to shoot during the day.
The over molded panels and front strap are very comfortable to use, making a pistol that already adapted to my hand like a glove, even better.
This is my home defense pistol, and it is never more than a few feet away from me most of the time, it is at night in my night stand next to a Borealis 1050 lumens flashlight, the combination of the powerful .45 caliber Federal 230 Hydra-Shock, and laser grips combined with the powerful 1050 lumens of the Borealis, make this combo an ideal night fighting tool.
THE STAINLESS STEEL GOVERMMENT .45 WITH THE CRINSOM TRACE LASER GRIPS, THE BOREALIS 1050 LUMENS WITH CRENELATED BEZEL AND QUICK DETACH SWIVEL, TWO CHIP MC CORMICK SHOOTING STAR MAGAZINES AND A BOX OF 230 GRAIN FEDERAL HYDRA-SHOCK AMMO.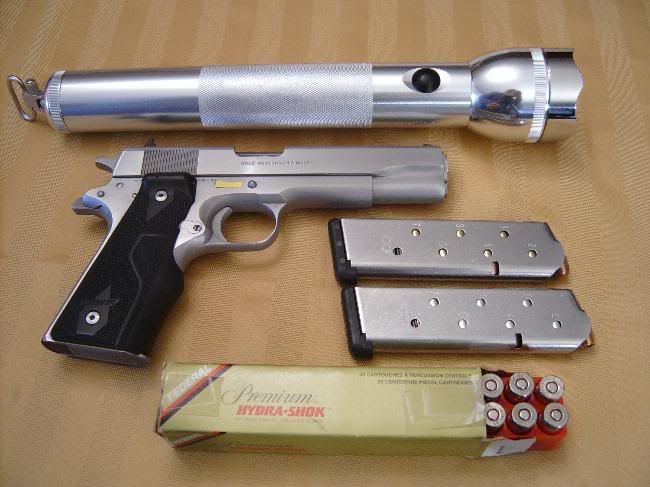 I have been shooting .45's for forty years; I had regular Gov't, Commanders, Colt systema 1927's and HAFDASA's. I am very good at shooting them; however the Crimson Trace Laser Grips and plenty of training using a dummy round and dry firing have me shooting better than ever.
As an example I can shoot from the hip and hit what I am shooting at up to 15 yards a 100 % of the time, thanks to the Laser, I am sure with more practice I can extend the range to 20 yards or more.
The best thing when shooting from the hip is unrestricted vision, you are aware of all your surrounding and avoid the tunnel vision that happens when you are using sights and have the pistol and hand in front of you blocking most anything else.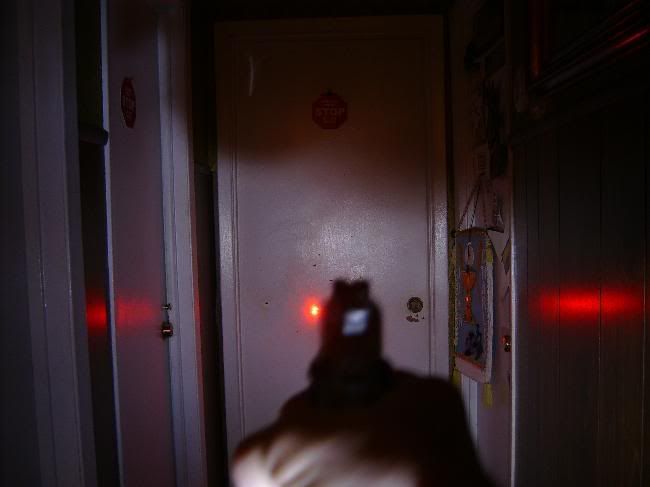 I also have the LG 305 in my model 36 Smith & Wesson, those grips really help the short 2" barrel, the little Chief Special was always a hard gun to shoot well at increased distances, not any more with the Laser Grips, as I am getting good groups at fifteen yards.
I wish Crimson Trace will consider to make grips for two of my favorite revolvers, one is a Colt Anaconda in .44 Magnum with a 4" barrel that fit perfectly in the front pocket of my fly fishing waders (good insurance against brown bears when fishing in Alaska) and the other is a Ruger Redhawk with a 7 ½ inch barrel.
All the best
Watchmaker